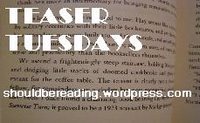 Welcome to another Teaser Tuesday!  You know how this works – take your current read, choose 2 teaser sentences, and don't spoil the ending!  This week, I'm reading I'd Know You Anywhere
by Laura Lippman. I haven't always been a huge fan, but this one is getting off to a very good start. I chose only one sentence for my teaser, but it is a sentence that packs a punch (and doesn't really spoil anything, since it appears on the back cover of the book):
"And then — just in case she didn't remember the full name of the man who kidnapped her the summer she was fifteen and held her hostage for almost six weeks, just in case she might have another acquaintance on death row, just in case she had forgotten the name of the man who killed at least two other girls and was suspected of killing many others, yet let her live, just in case all of this might have slipped her mind — he added his name."
Kinda creepy, right? This is shaping up to be a very interesting book.  You can check out more teasers at Should Be Reading.