I have to admit NOBS is one of the funniest acronyms ever. It stands for Northern Ohio Bibliophilic Society and they sponsor the annual Akron Antiquarian Book Fair. The fair has become a pilgrimage of sorts for me and a couple of good friends and I always come home with some great stuff. It's worth the price of admission just to walk around and look at all of the books, swoon over the posters and ephemera, and spend the day hanging out with other booklovers.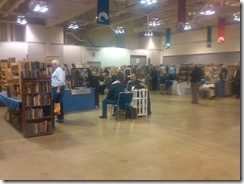 This year, the fair was a little smaller than usual; a couple of vendors I spoke with said that several exhibitors were missing this year. There is a place that specialized in signed books that seemed to be missing this year (although I found a great replacement for them!). It also seemed like some of the folks who carried more contemporary books were missing. There are always plenty of booths full of battered old books, tattered children's storybooks and the like. There were also the usual displays of history books, books on cars and planes and the military – not my interest at all. I do love old cookbooks and etiquette books, though, and those were also in good supply.
There was one display I was particularly enchanted with. Wonderland Books (Cleveland Heights, OH) had a beautiful display of book-related posters. Some of them announced various book events, others looked like ads for individual books. There was at least one signed and numbered print that I adored. I would direct you to their website but, sadly, they don't have one! I may have to email Mr. Rakow for an appointment, because we have a baby due in the family and I think one of those children's book posters, in an appropriate frame, would make a lovely shower gift. (My typical shower gift is a book of bedtime stories, for parents and grandparents. It's always well-received.)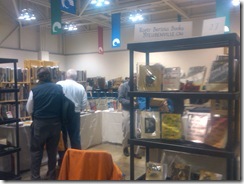 Okay, so what did I get for myself? From Roger Bertoia Books (Steubenville, OH), I picked up 2 signed first editions. Now, I have never been enraptured by first editions (thank heavens), but it's always nice to know that your new book is something special. I picked up Yann Martel's The Facts Behind the Helsinki Roccamatios
, a book of short stories, and Michael Connelly's Void Moon
. Very very reasonable prices for autographed first editions. From The University of Akron Press, I got cookbooks: Jane Snow Cooks
and West Point Market Cookbook
.  Heaven knows I've spent enough money at West Point Market on fabulous ingredients and pastries; I might as well have their recipes, too.
Last, from Kevin T. Ransom, Bookseller (Amherst, NY), I got What's Cooking: Thai
. This one looks very do-able – it's a huge disappointment to get an ethnic cookbook and then find that it depends on ingredients that I can't source locally. I think I'll have some fun with this one.
All that for under $50. Gotta love a good book fair!