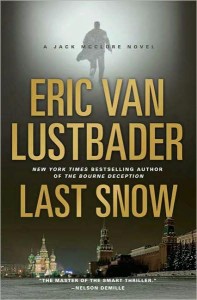 Last Snow
, Eric Van Lustbader's new political thriller, picks up right where First Daughter left off.  Edward Carson is now the President.  First daughter, Alli, is recovering from her kidnapping ordeal, and Jack McClure is still talking to his dead daughter. The President is in Russia, negotiating an arms deal, when an important administration ally turns up dead. President Carson is counting on Jack to untangle a web of lies and keep Alli safe — which would be easier if he had some idea who was after them.
Jack McClure is an interesting character. In First Daughter
, we learned that he managed to make a name for himself in the intelligence community in spite of — or perhaps because of — his dyslexia. In this environment, his mind works in a completely original way: every walk through a building creates a three-dimensional map in his head, he seems able to assemble tiny fragments of information into a coherent picture at blinding speeds. I'm not sure that dyslexia has this effect on everyone, but it works for Jack.
The plot is a Gordian knot. Everyone is lying, there is no clear view of the big picture, and everything is handled in secrecy. That's to be expected, since Jack has hauled the President's daughter on a cross-country dash to stay one step ahead of hired assassins — and those assassins might not all be Russian. There's a chance there is a traitor close to the President and he may have Jack and Alli in his sights.
I love a good political thriller. I had fun trying to scout the angles in this one, trying to sort out the post-Cold-War political influences that motivated the players. Throw in the possibility of a traitor amongst the President's advisors, and you've got plenty of intrigue to work with. You could almost see the clock ticking down, feel the tension, right up to the signing of the accord, with agents working frantically in the background. I really enjoyed the big build-up.
I'm still not sure how I feel about Jack's conversations with his dead daughter. It's strangely out of place in a serious political thriller — like finding out one of the ATF agents is a werewolf or something. But it doesn't seem entirely out of place. She's not revealing the secrets of the universe to him or stopping bullets; she could be a manifestation of his grief. It adds just a touch of the exotic to the standard formula, and I like that very much.
There are some big twists in Last Snow
, the sort of twists that make you wonder about the next book. If Jack's story continues — and I have no reason to think it won't — things are definitely going to change. I look forward to checking out the new landscape.
My copy of Last Snow
was provided free of charge by the publisher.