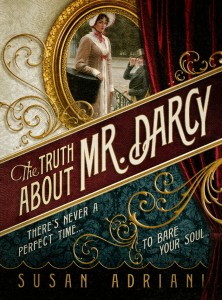 It's apparently Jane Austen month here at Alive on the Shelves — which is sort of funny, because I am not a huge Austen fan, myself. I am interested, though, in the on-going fascination with Jane Austen and her storylines. She's a little like Shakespeare in that respect — her themes turn up over and over in books and movies.
Today, I have a guest post from Susan Adriani, author of The Truth about Mr. Darcy
. She's got a few things to say about Austen AND! She started out writing fanfiction! I am a big fanfiction fan (and I'm guessing she wasn't writing Darcy/Bingley slash), so I think that's pretty cool. So, what does she have to add to Maria Hamilton's thoughts on Jane Austen? Let's find out…
——
It may seem like everywhere we go now a days we see something Jane Austen-related, be it a variation novel, sequel, or mash-up with zombies, and sea monsters, and vampires (Oh, my!); but this phenomenon is actually not a new trend, but one that's been around for quite a long while.
I first got my start writing Jane Austen-inspired fiction on the fanfiction boards. The what, you ask? That's right—there's an entire chain of commonalities out there in cyberspace, some with thousands of members devoted to Jane Austen, her novels, and characters—especially her most beloved, Pride and Prejudice. The members in these online communities have been reading and writing their own sequels, prequels, and variations for years, and loving it. And believe me, they're a passionate bunch!
As far as the fascination and following surrounding Jane Austen's novels, I think her writing speaks for itself. Though she lived and wrote in a completely different century—at a time when women were under strict societal constraints that left them with little or no rights at all, her heroines were full of passion, compassion, and even a little rebellious at times. Well, perhaps some more than others, but they were each wonderful and refreshing in their own way, and we just can't seem to help ourselves—we love them for it.
Jane Austen wrote with an honesty and candor that was as refreshing then as it is now, several centuries later. We can connect with her characters because she humanized them. Even her most admirable characters, the ones who initially appeared to be without fault, like Mr. Darcy, were far from perfect. Being taciturn, he did not socialize much in Hertfordshire beyond his own party; and who among us can forget his comment at the Meryton Assembly in regard to Elizabeth Bennet? "She is tolerable, I suppose, but not handsome enough to tempt me." He wounded her vanity; is it any wonder she did not like him?
But we instantly liked her. Elizabeth Bennet was playful, intelligent, witty, and easy to admire. (Qualities, incidentally, that were not considered fashionable in Regency England). She also prided herself on her powers of discernment, yet somehow managed to be duped by Mr. Wickham into believing Mr. Darcy was a proud, heartless benefactor, when in reality it was Wickham who cared for little beyond his own comfort. And it was Mr. Darcy who finally set her straight.
It took many months for Elizabeth's sentiments toward Darcy to change from dislike to admiration, but then again, Darcy underwent quite a metamorphosis of his own during those same months. By the time they were re-united by accident at Pemberley, his manners had improved greatly. As a matter of fact, Elizabeth was left wondering what could have inspired such a transformation in him. I think we all know the answer to that question, and it's just another wonderful reason why we love Jane Austen's writing. Her endearingly flawed, very human characters learn from their mistakes, grow as individuals, and endeavor to right their wrongs. Like I mentioned, Mr. Darcy changed his ways for Elizabeth Bennet, although in essentials he remained as he ever was—a truly benevolent gentleman. Wouldn't it be flattering if we were able to inspire such admiration and esteem in someone like Mr. Darcy, enough so to soften some of those hard edges? I think it would.
I'd like to thank Lisa for having me as her guest today. I've enjoyed being here on Alive on the Shelves very much! I've included a short excerpt from my book, The Truth about Mr. Darcy
(formerly self-published as Affinity and Affection). I hope you'll enjoy reading it as much as I've enjoyed being here today.
Susan Adriani
Click here for an excerpt from The Truth About Mr. Darcy
That evening at Netherfield there was a noticeable difference in Darcy. The sullenness and despair that had consumed him for the past week now seemed to be nothing more than an unpleasant memory. Hope reigned in his heart with the pure elation he felt since kissing Elizabeth. Each time Darcy's gaze fell upon her lovely face, he was flooded with a warmth that truly became him, which brought relief and joy to Jane and Bingley, and a flush of feeling to Elizabeth.
To Miss Bingley, who was hardly blind to his marked preference for Elizabeth, it was nothing short of infuriating. She had tried for days to draw him out—and for years to interest him. Damn Charles for ever coming into Hertfordshire! What could have inspired him to settle in such an odious place? All her efforts would be for naught if Darcy ended up paying his addresses to Elizabeth Bennet.
Miss Bingley glared as Darcy's gaze followed Elizabeth to the pianoforte with a half-drugged look of desire in his eyes. Intolerable! How could he even think of throwing himself away over an impertinent little nobody? And Charles is no better, following Jane Bennet around the countryside like a lap dog. Something needed to be done before any more time elapsed. Perhaps they could remove to Town before Christmas? London was far enough away from the charms and allurements of the Bennet sisters, and though she and Darcy would no longer share the distinction of residing together in the same house, the trip to Town would at least provide the relief of far more superior society for her brother.