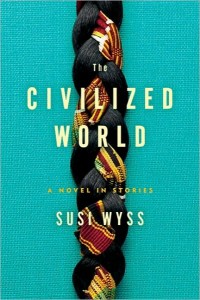 The Civilized World: A Novel in Stories
describes itself as "a novel in stories." To some extent, I think that's true of all novels, but it is very pronounced in The Civilized World. Each chapter is a distinct story, although the stories overlap in a way that gives a much broader picture. Like real life, you don't know every detail of every story, which sometimes leaves you wondering about how things happened. The stories draw you in — they are interesting on their own, and they leave you wondering how and when they will tie in with the first storyline.
The main characters in The Civilized World are all women; there are men that influence their lives, but the real driving force in the book is female. We start with the story of Adjoa. She is living in Abidjan, in the Ivory  Coast, with her twin brother, Kojo, after leaving Ghana to find work. They are saving their money to return home and open a beauty salon, but Kojo is impatient, and his impatience leads to a lifetime of regret for Adjoa. One of Adjoa's clients is Janice — in future stories, we learn more about Janice and the life she creates for herself. We learn about Comfort, her ties to Ghana and to her son in Washington, D.C. We meet Linda and Ophelia. Their lives intersect in happy and unhappy ways.
One of my favorite stories was "A Modern African Woman," about Comfort and her daughter-in-law, Linda, in the US. Comfort has come to help out after the birth of her grandchild and the differences between her life and Linda's are startling. I have seen friends of mine struggle with meddling mothers-in-law, who come from a different era and different child-rearing traditions, but those conflicts are nothing compared to an African woman who is concerned about re-shaping her grandson's head, and an American woman who worries about formula and SIDS. The husband and father, Ekow, is caught in the middle but he is really inconsequential; the women need to work out their own differences.
"There Are No Accidents," the final story in the book, brings our characters full circle. Here, the final elements of the story come together and we learn few final truths.  It's an excellent wrap-up, illustrating that there are some things you never really escape.
This is an interesting format for a book. It tells the reader some parts of the story; other parts take place behind the scenes. The stories are tied together by the women who drive the book forward and author Susi Wyss made me feel connected to them, even those — maybe especially those — leading very different lives.
My copy of The Civilized World: A Novel in Stories
was an Advanced Reader Copy provided free of charge.