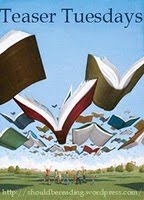 Welcome to another edition of Teaser Tuesday!
Teaser Tuesdays is a weekly bookish meme, hosted by MizB of Should Be Reading. You know the rules:
Grab your current read
Open to a random page
Share two (2) "teaser" sentences from somewhere on that page
BE CAREFUL NOT TO INCLUDE SPOILERS! (make sure that what you share doesn't give too much away! You don't want to ruin the book for others!)
Share the title & author, too, so that other TT participants can add the book to their TBR Lists if they like your teasers!??
This week, I'm reading More Boy Than Girl
by Tony Lindsay. It was a little tough choosing a Teaser, as More Boy Than Girl is all about a young woman born into the gang life, pimping her ho'es, selling weed and running stick-up jobs. There is quite a bit of raw language and sex, but no more than you'd expect, given the circumstances. Dai Break Jones, the main character is indeed "more boy than girl," but you should be careful saying that to her face. She is one tough "stud broad."
I hate the word dyke because I have never been able to find a definition for it, other than an offensive term for a lesbian. Which to me meant the only purpose of the word was to offend.
I think she's right about that one. What's teasing YOU this week?