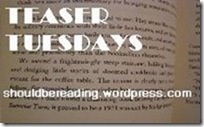 This week, my Teaser comes from The Civilized World: A Novel in Stories
by Susi Wyss. I'm just getting started, but so far, so good.
You know the rules: open you current read and pick 2 teaser sentences for us. No spoilers, please, and don't forget to tell us about the book.
In this teaser, one of the women is talking about her husband's first foreign service post:
I'd never had any interest in going to Africa, but I was excited about being a foreign-service wife. I fancied myself the vital anchor, lowered anew at every port, ensuring a safe and happy haven for our family-to-be. A kind of international Martha Stewart.
Okay, I snuck in one extra sentence, but you'll forgive me just this once.
What's teasing YOU this week?