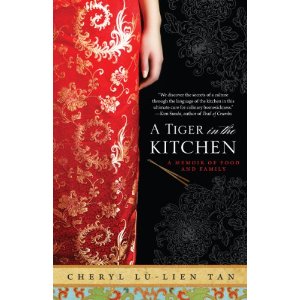 A Tiger in the Kitchen: A Memoir of Food and Family
made me hungry. Really hungry. I love Asian food of all sorts, and listening to author Cheryl Lu-Lien Tan describe these family favorites in such loving detail made me want to try to make them myself, because I just knew takeout was going to be a disappointment. Dumplings, soups and special desserts, often tied to holiday celebrations and memories of family dinners, are all on the menu in her book, subtitled "A Memoir of Food and Family." Her attempts to reconnect with her family and childhood through not just recipes but the act of preparing them, will be achingly familiar to many readers.
Tan had a comfortable childhood in Singapore. It seems her parents were expecting a boy, but instead, they got a feisty, independent daughter who left for America at 18. In her home, cooking was a task left to the maids, but she has vivid memories of the cooking that went on in the homes of her grandmothers and aunties. As a professional journalist, living in New York, she begins baking as a sort of therapy:
In this cloud of cinnamon-scented zen, the pressures of New York would melt away. Outside the kitchen, life was complicated and meandered in unpredictable and uncontrollable ways. But with my mixer in hand and two sticks of softened butter before me, the possibilities were thrilling and endless and the outcome was entirely governed by me.
She shares some incredible stories about her family history, many of them stories that she never heard until she began spending time with her aunties. Cooking is a great distraction; you have something to do with your hands, something to concentrate on, so you speak more freely, less self-consciously, so I'm not surprised that it led to some great conversations. Besides, you have to do something while you're waiting for dough to rise or rice to cook. Gossip and story-telling are a great way to kill time.  One auntie tells the story of her brief stint as an opium courier. There are the stories about what Singaporean fiances have to do to win their wives (mainly: bring money and eat disgusting things). Talk about the festivals in Singapore, what one feeds a Hungry Ghost, and why cats have to be shooed away from funerals. It's a small whirlwind of Singaporean culture, with a side of chicken rice.
It's the descriptions of the food that really got me. My stomach rumbled just reading them:
One of the dishes I desperately wanted to know how to make was tau yew bak, a stew of pork belly braised in dark soy sauce, sweet and thick, and a melange of spices…When done well, the meat is so tender you feel almost as if you are biting into pillows. The gravy is salty, sweet, and gently flecked with traces of ginger, star anise, and cinnamon — just perfect drizzled over rice.
In some ways, Tan comes off as a little selfish and  spoiled, with all the talk of ignoring her aunties' hard work and leaving the cooking to the maids, but these are stories of her childhood. Being laid off from her job at the Wall Street Journal gave her the time and freedom to spend time in Singapore with her family, learning to cook the old family recipes, but my poor practical heart screams, "what about job hunting? those flights are expensive! what about your husband, stuck at home?" If you can manage it, that's great and I am desperately jealous, but it's hard for me to imagine.
All in all, A Tiger in the Kitchen: A Memoir of Food and Family
is a wonderful book about food and family and all of the things that "family" encompasses. It made for very pleasant reading – but have a snack handy. You can check out some of Tan's recipes and other writing at her website; there are also recipes in the back of her book (although not one for tau yew bak, I'm sad to say). I even found a place on-line to order pandan leaves, just in case I get really ambitious.
My copy of A Tiger in the Kitchen: A Memoir of Food and Family
was provided free of charge by the publisher.