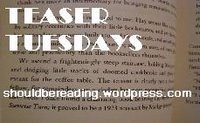 This week, I've got 2 great teasers – one from the book I just finished and one from the book I've just started.
Teaser Tuesdays is a weekly bookish meme, hosted by MizB of Should Be Reading. You know the rules:
Grab your current read
Open to a random page
Share two (2) "teaser" sentences from somewhere on that page
BE CAREFUL NOT TO INCLUDE SPOILERS!
Share the title & author, too, so that other TT participants can add the book to their TBR Lists if they like your teasers!??
First, from the book I just finished, Graveminder
by Melissa Marr:
For a small town, Claysville had a high number of graveyards and cemeteries. By law, everyone ever born within town limits had to be buried here: consequently, the town had more deceased residents than living ones.
If that isn't creepy enough, there's the quote on the cover: "Sleep well, and stay where I put you."  Shiver.
Now, from the new book, When the Thrill Is Gone
, by Walter Mosley. Leonid McGill is not someone you want to mess with:
"If you're lucky," I said before he could announce his undoing, "you will one day get to be old enough and infirm enough to have some young man yellin' at you to hurry it up. If you're unlucky, you'll lay hands upon me."
Two great books – very different, but both riveting. I should have the review of Graveminder up this week and When the Thrill Is Gone next week. Be sure to check back.