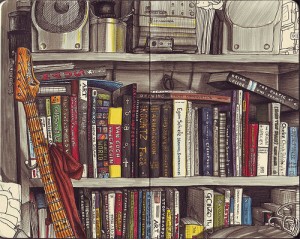 Here are some of the new additions to my bookshelf over the last few weeks:
Palm Trees on the Hudson: A True Story of the Mob, Judy Garland & Interior Decorating
by Elliot Tiber:
In April 1968, Elliot was hired to throw an elegant dinner party aboard a luxury yacht on the Hudson River. Included on the guest list were New York's rich and famous–politicians, financiers, and even Elliot's icon, Judy Garland. The big night arrived. But when a fight broke out, resulting in the destruction of everything including the rented palms, Elliot's event turned into a financial disaster. Things couldn't get any worse–or so it seemed, until the Mob paid him a visit.

By turns comic and tragic, Palm Trees on the Hudson: A True Story of the Mob, Judy Garland & Interior Decorating is the take-no-prisoners memoir that gives readers a more intimate look at the man who went on to fight back at Stonewall and who helped give birth to the Woodstock Nation.
Pat Cooper How Dare You Say How Dare Me!
by Pat Cooper:
Cooper begins his spirited memoir by discussing his early Italian family life in Brooklyn and his debut on the Fox Amateur Hour radio show, where his impressions won him first prize. He left school and worked as a brick layer and longshoreman before being drafted into the Army, and was the "man of the house" in his early 20s when his parents divorced and his father was mostly absent. Without much encouragement, Cooper never stopped performing, whether on the corner or at neighborhood events, and finally got his big break, at 30, on The Jackie Gleason Show. The Atlantic City and the Vegas of the Rat Pack era followed, with Cooper gaining notoriety as an "angry" comic; his routines were full of harsh wit that often cut close to home. Calling broadcasting the truth his version of therapy, Cooper cemented his status with regular appearances on The Howard Stern Show in the late '80s. But beneath the loud and relentless shtick was the darker side typical of many funny men, and he discusses strained relationships with his children, including a daughter who once called in to Stern's radio show to attack him. Still going strong at 80, Cooper believes "…in getting things out of my system," so the warts-and-all approach to his autobiography will come as no surprise to fans.
Love at Absolute Zero
by Christopher Meeks:
Love at Absolute Zero" is the story of Gunnar Gunderson, a 32-year-old physicist at the University of Wisconsin. The moment he's given tenure at the university, he can only think of finding a wife, causing his research to falter. With his two partners, Gunnar is in a race against MIT to create new forms of matter called Bose-Einstein condensates, which exist only near absolute zero. To meet his soul mate within three days–that's what he wants and all time he can carve out–he and his team are using the scientific method, to riotous results.
Partitions
by Amit Majmudar
As India is rent into two nations, communal violence breaks out on both sides of the new border and streaming hordes of refugees flee from blood and chaos.

At an overrun train station, Shankar and Keshav, twin Hindu boys, lose sight of their mother and join the human mass to go in search of her. A young Sikh girl, Simran Kaur, has run away from her father, who would rather poison his daughter than see her defiled. And Ibrahim Masud, an elderly Muslim doctor driven from the town of his birth, limps toward the new Muslim state of Pakistan, rediscovering on the way his role as a healer. As the displaced face a variety of horrors, this unlikely quartet comes together, defying every rule of self-preservation to forge a future of hope.
More new books later this week!