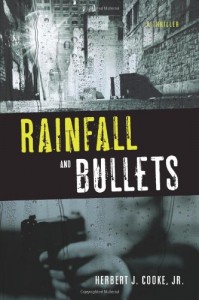 On a rainy night in La Cieba, Honduras, a group of desperate people crash into each other like bumper cars — careening from one another, bouncing off, sneaking up on another. They are all driven for different reasons. They have secrets. Eventually, it will all come out, with Rainfall and Bullets.
Armando Murilla is a cab driver with a shady past, a sick wife and an angry mother in law. Sergeant James Watts is stationed at the local military base — and he's in love with a local girl. Juanisa is doing her best to hide her affair from a family who wouldn't approve. Then there are the bad guys — Carlito, Sanchez, Santiago — and the dirty cop, Detective Ramirez. The plot is a tangle of motives, ambitions and underground connections.
Armando needs to come up with a windfall so he can pay for his wife's surgery. Carlito is back in town on a personal errand and Santiago, head of the local crime syndicate, calls in a favor; that favor puts him at odds with Sanchez, another of Santiago's employees. James plans a little adventure that puts him in the wrong place at the wrong time and Detective Ramirez leaves him only one way out of trouble.
It's an interesting story, if a little far-fetched. There were a few of those moments where the action feels forced, where your disbelief gets a little stretched. But for fans of action and shoot-em-ups, there is plenty to keep you entertained. There are car chases, ambulance rides, showdowns and gun battles. Through it all, family secrets are revealed and hidden agendas come to light.
Author Herbert J. Cooke, Jr, is a retired Air Force Security Forces Specialist. He is well-traveled, having spent time in England, Germany, Kuwait, Egypt, Korea, Panama, Spain, Honduras and Boliva. My copy of Rainfall and Bullets was a review copy provided free of charge.