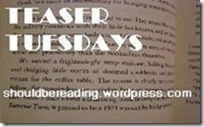 Welcome to another edition of Teaser Tuesday! You know how this works: grab your current read, pick two teaser sentences to share with us (no spoilers, please) and don't forget to tell us about the book. Then, head over to Should be Reading to check out the other teasers!
This week, I just finished up a really fun book: Zombies of the World: A Field Guide to the Undead
. If you've ever wondered just what sort of zombie that was, shambling down the center of Main Street, this is the book for you! (Check back for my review tomorrow.) It covers all the major species, plus has all sorts of handy tips for dealing with the pesky buggers. But it has a definite point of view on our undead friends:
"Rare and endangered creatures need to be protected, even if they are lethal. Zombies shouldn't be treated any differently than Siberian tigers."
Well, maybe a little differently — after all, if I'm bitten by a Siberian Tiger, I won't become a Siberian Tiger!
What's teasing YOU this week?