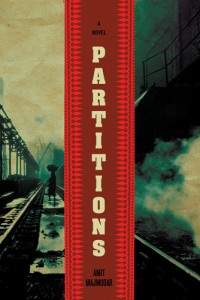 Sometimes, a book makes lovely reading, even when the subject matter is very sad. Partitions
by Amit Majmudar is one of those books. I was not at all surprised to read that the author is an award-winning poet; there is a certain poetry to the language in this story that gives it away. (He is also a diagnostic nuclear radiologist, but I haven't quite worked that into the mental picture I get when I'm reading.)
In 1947, the border between Pakistan and India was closed. It was not a peaceful closing. Muslims and Hindus caught on the wrong side of the border found themselves in great danger; by some estimates, up to a million people died. Partitions
deals with the stories of several people trying to get to the right side of the new border.
Our narrator, Roshan, is dead. He has been dead for five years now, but he is keeping watch over his wife, Sonia, and his twin boys, Shankar and Keshav. In the train station, trying to get on the last train headed to Delhi, the boys become separated from their mother — an absolutely terrifying event for all of them. Roshan will follow the boys on their journey. He will leave the story of Sonia's fate to the very end.
We also follow Ibrahim Masud, an elderly Muslim doctor. The doctor frightened me — he seemed somehow simple, stunted either by age or defect, with tremendous difficulty speaking to adults around him. His tremendous tenderness dealing with children leads him to try and help those he meets on the road to Pakistan. There is also Simran, a young Sikh girl who found that at the last minute, she could allow her father to "save" her, and fled her home and family. Both will encounter kindness and cruelty as they search for safe passage on what Majmudar describes as a river of humanity.
The stories are heartbreaking. In the face of so much hostility, it is hard to imagine any sort of happy ending. The narrator is particularly interesting — he is not quite omniscient, but he sees these events, travels back and forth in time and place, to bring us their stories. He wants desperately to protect his sons, but in the end, all he can do is watch.
Still, I did not find this a sad book to read. The writing is beautiful, although I had some trouble with vocabulary. I gave up trying to look up all the Indian words that were unfamiliar to me; most are clear enough in context, but I feel like I'm missing something, translating them on my own. I loved the narrator's voice, his fierceness in defense of his sons and as well as his hesitance. He makes you want to invest in these characters, even if you can't see a way for there to be any good ending.
For more on Amit Majmudar's poetry, check out The Poetry Foundation or his Facebook page.  My copy of Partitions
was an Advanced Reader Copy, provided free of charge.