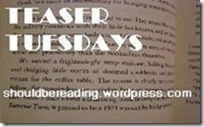 Welcome to another edition of Teaser Tuesday! You know how this works: grab your current read, pick two teaser sentences to share with us (no spoilers, please) and don't forget to tell us about the book. Then, head over to Should be Reading to check out the other teasers!
This week, I am finishing up The Kingdom of Childhood
– really good; check back on Thursday for my review and Friday for the KoC Scavenger Hunt! Part of this story is told in flashbacks from Judy's childhood and some of them are very scary:
"Only gradually did the understanding unfold in her: that it was not the shaking, the counting, and the lithium that were conspiring to ruin her family. It was the girl."
The girl. They always blame the girl.
What's teasing YOU this week?