In a sense, The Woodcutter
is a fairy tale. Not a cute Disney fairy tale, but one of those old Grimm Brothers' tales, with heartbreak and revenge and bad folks meeting nasty ends. Even while parts of the story have a very modern feel, there are still ties to its more mythic underpinnings. I really enjoyed that part of the story.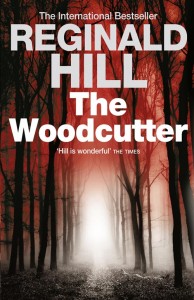 Wolf Hadda is a successful businessman who describes his life as a fairy tale. His father was a woodcutter, the groundskeeper for a castle, and he grew up in a cabin in the woods. He fell in love with the daughter of the castle's owner and eventually won her hand. But everything changes when he is accused of a shocking crime and gets swept up in accusations and investigations. In typical Wolf fashion, he doesn't wait for the wheels of justice to grind him up. In a bid for freedom (more stubborn than desperate), there is an horrific accident that leaves Wolf crippled, disfigured, and near death. He wakes up to a world in which his friends have deserted him, his wife is divorcing him and he has been all but convicted of child pornography. His fairy tale is over.
Years later, he agrees to see the prison psychiatrist, Alva (from the Swedish for "elf") to talk about his conviction. Their talks lead to acceptance and recognition of his crimes and, eventually, to parole. That'e when the fun begins.
The most interesting part of the book for me was Wolf's prison interviews with Alva. The reader, of course, begins by assuming that Wolf is innocent; Alva is convinced he is guilty. Everything he says is proof of denial, every aspect of his childhood lays the groundwork for his future perversions. She takes nothing at face value. It was both fascinating and frustrating to me as a reader — you want to shout at Alva that she is being unfair to Wolf, but, of course, her reactions are perfectly normal for someone working with convicts — I'm sure most of her patients insist that they are innocent.
Wolf takes up residence in his old family home, adjacent to the grounds of the castle where his in-laws still live. The rustic cabin, the isolation, the disgust of his neighbors — it would be a very difficult existence for most men, but Wolf seems to thrive. After all, he is a man with a purpose…
This is really a terrific story. Some of it requires some suspension of disbelief, especially in the later chapters, but it is a modern-day crime mystery set against a fairy-tale backdrop of castles and woods and cliffs. Wolf is a fascinating character and I was not at all surprised that Alva became somewhat obsessed with him; it would be easy enough to do. The differences between Wolf's family and that of his "princess", Imogen, are startling and play an important role in the story, both the modern plot and the myth behind it. It's a thick book — 500+ pages — but the story draws you in and keeps you turning pages throughout. Definitely worth the reading time and effort.
My copy of The Woodcutter
was an advanced reader copy, provided free of charge.