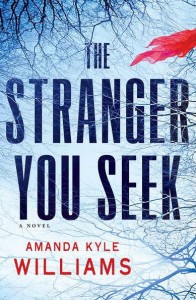 Well, I have found my new detective obsession. I love good detective fiction and I love my handsome detectives, but I am an equal opportunity fan and Keye Street is my new best girl. The Stranger You Seek
by Amanda Kyle Williams is a debut novel with great promise. The characters are terrific and the mystery is compelling — I put the book down half-way through to check Amazon and see if I could pre-order the next book. Sadly, I can't, but I will be pestering her publisher for a review copy.
Keye Street is a terrific character. She's a private detective with a sordid past, living in Atlanta, Georgia. She's Chinese; she was adopted by the Streets when she was just a toddler. She didn't come from a great background:
"I wasn't emotionally devastated by the fact that they'd given me up. They did it because they were incapable of caring for a child. I mean, with the prostitution and stripping and drugs and all, they were really busy. I guess I was a little pissed that I'd grown up on cheese grits and gravy…but generally I have been incredibly blessed by their handing over their child."
She's also got a lot of baggage. She's an alcoholic and her drinking destroyed her career at the FBI's Behavioral Analysis Unit. She'll never officially work in law enforcement again, and with that background she does not make a compelling expert witness. Still, she has carved out a niche for herself in Atlanta, doing background checks, serving subpoenas, and chasing down bail jumpers.  She does tend to gravitate to some odd work:
"I'd been a licensed Bail Recover Agent since leaving the Bureau. It bought the groceries while I built my private investigating business, and it still supplemented by income nicely. My shrink, Dr. Shetty, says it's a power thing, that I have a brutal case of penis envy. What can I say? I like strapping on a big Glock now and then."
In The Stranger You Seek, Keye gets caught up in the case of a serial killer. The killer is taunting police, writing letters to the media, and perhaps targeting those involved in the investigation. There are some real scares, some interesting twists, and a story you can really get wrapped up in. I was left with a few questions (Amanda, are you out there? I've got questions about Charlie!) but all in all this was a great read.
My copy of The Stranger You Seek
was an Advanced Reader Copy, provided free of charge.