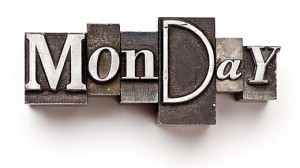 Hey folks, Monday again and time for a little pre-cap of what you can expect to see this week. I've really started to enjoy doing these posts — they keep me honest as we go through the week.
Monday: my pre-cap and the end of my Tinker, Tailor, Soldier, Spy giveaway.
Tuesday: Teaser Tuesday and an interesting bit from my current read, The Bad Always Die Twice
Wednesday: Wondrous Words Wednesday and the last of the words from Other People's Money
Thursday: my review of Other People's Money
 – a real pleasure to read
Friday: my review of The Tiny Book of Tiny Stories: Volume 1
 – also a pleasure to read and a really amazing concept. I may also have a guest post on Friday, but there seems to have been some confusion with the publicist, so we'll have to wait and see.
Saturday: as always, I hope to have something for Saturday Snapshot. I'm traveling for work and I'll be on the road, but maybe some pictures from my trip to Detroit.
There it is, a busy week! Mark your calendars and be sure to stop back.