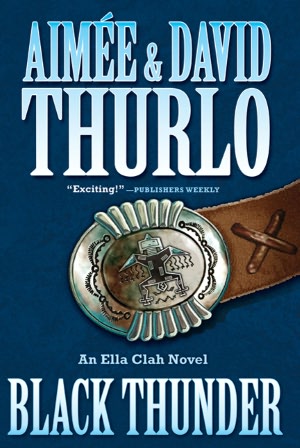 Anyone who reads here regularly will know that I love mysteries. One of the keys to a good mystery series is that it should be accessible — if I haven't read anything of yours before, I should be able to walk into the series, no matter which book I choose. So when I learned that Black Thunder
was the 13th Ella Clah novel, I was a little cautious. The great thing about the book is that without ever reading any of the previous books,  I was able to enjoy Ella's adventures and not feel at all lost.
Black Thunder takes place on the Navajo reservation ("the Rez") in New Mexico. One of the most interesting things about the book is the setting and the restrictions it places on Clah's police work. How can you discuss the suspects in a case when the Navajos avoid using a person's name? How do you interrogate someone when you have to wait in your car to be invited to their door? It's a very different way of dealing with people and it was fascinating to see the way that Clah and the other detectives adapted their methods.
The reservation police have discovered a serial killer's dumping grounds — four bodies, buried close together, all with the same, execution-style cause of death. The bodies need to be identified, commonalities determined, friends and enemies interviews, and they need to do it quickly. From what the coroner has determined, the killer strikes once a year, and it's nearly that time…
Here's another difficulty for the tribal police: Navajos do not like to deal with the dead. Which, of course, makes things difficult when you are investigating a murder or trying to perform an autopsy.
"The chindi, the evil in a man, was said to remain earthbound waiting for a chance to create problems for the living. Contact with the dead, or their possessions, was a sure way to summon it to you, so avoidance was the usual strategy."
The mystery builds slowly, which I like. I hate a story where the killer is obvious while the police are oblivious. Who wants to read about police who aren't smart enough to catch the crooks? There are some good twists and turns and some subplots to keep you reading along. The only issue I had is that everyone seemed to get along really well. I don't know that much about actual police work, but it seems likely that the FBI, county police and tribal police would butt heads at some point — jurisdictional issues, policy issues, general posturing. Here, everyone seems to be able to put their ego aside and work together and when does that ever happen in real life? Still, it's a minor squabble. It's a very pleasant, readable mystery and I wouldn't mind at all picking up more in the series.
My copy of Black Thunder
was an Advanced Reader Copy, provided free of charge. For more on the Ella Clah mysteries, check out the Thurlo's website.