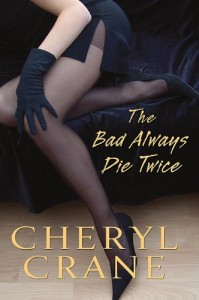 This was a fun read. When it comes to the backside of Hollywood, you have to admit that Cheryl Crane, daughter of screen legend Lana Turner, really knows her stuff. The Bad Always Die Twice
 is a Hollywood murder mystery with all of the fun details that only an insider would know.
Nikki Harper is a Hollywood real estate agent, selling those megamillion dollar mansions in the hills with her partner, Jessica Martin. They are young, pretty, celebrity-savvy girls:
"One of Jessica's most endearing qualities was that she wasn't any more impressed by celebrities than Nikki was. Their only difference was that Nikki had grown up with them and Jessica slept with them. The combination of their personalities made them a great team at work."
Sort of sets the tone for their interaction. Jessica is the pretty, flashy girl who flirts with the gentlemen clients and reels them in. Nikki is less flashy, with a more understated style, and the Hollywood chops to make the deals. And when Jessica is accused of murder, Nikki puts those Tinseltown connections to work.
The real star of the story is Victoria Bordeaux. She is stunningly beautiful, incredibly poised, an old-school screen goddess in the style of, well, Lana Turner. She is also Nikki's mother. Nikki's relationship with her mother and her mother's particular flair for dealing with people are the best parts of the book. Nikki is a great character, with a complicated love life, interesting friends and the sort of foibles that will make her a fun read. Still, Victoria is what will keep me coming back — you can just tell that she's going to be very involved in whatever Nikki does…and that's not a bad thing at all.
I was a little wary taking this on — sometimes you suspect that a writer got their contract based more on a celebrity pedigree than their writing talent — but it was a real pleasure. I wouldn't put Nikki up there with my new detective lady-love, Keye Street, but I would certainly enjoy picking up the next Nikki Harper mystery.
My copy of The Bad Always Die Twice
 was an Advanced Reader Copy, provided free of charge.