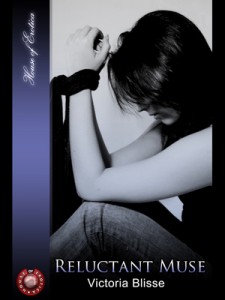 In Reluctant Muse
, Carrie takes a job at Betta Burger to pay her college expenses. Mr. Singleton, the boss, isn't too bad, but his nephew, Steve, is a real jerk. Luckily, Carrie has the blonde, handsome Jamie to show her the ropes — literally. Their friendship, after Carrie's initial reluctance, becomes something much, much more.
Carrie has a lot of insecurities about her appearance and about her fantasy life. Her fantasy man pins her down and has his way with her, and she feels a little bad about that, like it's not the sort of fantasy she's supposed to have. It takes her a while to accept that Jamie is serious about his advances, but he is a persistent young man.
"Jamie is feeling a host of emotions, too. Carrie is a sensitive, shy girl and he does not want to blow his chances with her by stepping over the line, but oh, does she bring out the dominant in him. He wants to take care of her, nurture her and punish her sweet, sweet behind."
Jamie wants to paint her…and he wants to tie her up! That fits in perfectly with Carrie's plans. Of course there will be some obstacles in their path, but eventually, you know these two kids will work things out.
Reluctant Muse
 is 75 pages of naughty but still romantic sex — sweet, but with a bit of an edge. My copy was a review copy, provided free of charge.