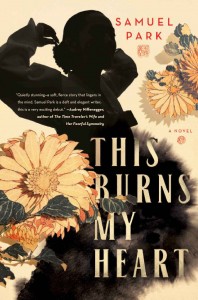 Contemplating this review, I started off thinking that This Burns My Heart has all the hallmarks of great historical fiction. It takes place in an exotic location (South Korea) in an interesting time period (1960s). It has an ambitious female protagonist, Soo-Ja Choi, who wants to do great things. There is plenty of conflict for Soo-Ja — with her parents, her culture, her husband. The world outside South Korea is changing rapidly, while her culture seems mired in the past, smothering her. But after three attempts to read the book and 175 pages, I just found myself asking, "so what?"
There is no doubt that Korean culture in this time period was repressive and male-dominated. As a woman, Soo-Ja has some freedom, but she is still ruled by her father and eventually by her husband. Her first attempt to escape her father, by applying for diplomatic school, is thwarted. Her second attempt is more successful, at least at first. She decides to marry a rather shiftless young man that she can control, someone she will be able to manipulate to get her own way. Her father agrees to the union, but things do not turn out the way she planned.
So what? She made a mess of her own life, and while I understand that she was trying to find a way to do something better for herself, she picked a pretty lousy way to do it. It has the potential to hurt a lot of people. That's not shocking; people have been screwing up their lives for centuries. This book just didn't seem to have anything new to say about it.
Postwar South Korea should be an interesting place, but the book doesn't really give me its flavor. There are some small details, tidbits about festivals and bean cakes, a walk through the market, but I never felt like I was there. When I compare it to something like The Thousand Autumns of Jacob de Zoet, where I felt completely immersed in the sights and sounds and smells of  18th century Japan, this could have been South Korea, or it could have been Chinatown.
I really wanted to like this book, but I never felt swept away to another era, the way you do in great historical fiction. There's nothing wrong with the book: the writing is fine, the story has potential, but it didn't grab me. Three attempts was enough for me.
My copy of This Burns My Heart was an Advanced Reader's Edition, provided free of charge.