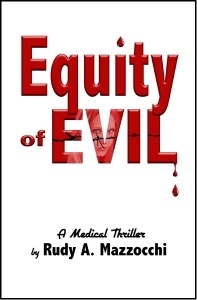 Today, I've got a special guest post from Rudy Mazzochi, author of Equity of Evil, a medical thriller. He is best known as a medical device and biotechnology entrepreneur, inventor, and angel investor, with a history of starting new technology ventures throughout the U.S. and Europe. He's authored more than 50 patents, and has now turned his talents to fiction. Combining his experiences and opportunities with thousands of hours of travel and long evenings in hotel rooms, he found the initiative to start writing a collection of medical thrillers based on true events, the first of which is Equity of Evil.
EQUITY of EVIL – Don't Believe Me?
By Rudy A. Mazzocchi
As a start-up entrepreneur in the medical device industry since the mid-80s, I've been privileged to have the opportunity to see the newest innovations in healthcare and work with some of the most brilliant researchers, scientists and physicians in the industry throughout the world. It's allowed me to witness technologies that could easily be viewed as "science fiction", ranging from controversial developments with embryonic stem cells to designing the first electronic, auto-focusing implantable lens for inside the eye; (for the Terminator or the Six Million Dollar Man – depending upon your generation)!
Logging in millions of miles on numerous airlines, while chasing new technologies and the proper funding to move them forward, provided me long hours to read hundreds of novels. It finally got to the point where the written stories were less exciting than the brutal and thrilling reality of what I was facing on a daily basis.
Don't believe me? Here are a few true events behind the story of EQUITY of EVIL:
The prologue is from my true experiences as an undergraduate pre-med student working in the Human Genetics Research Laboratory where I cultivated fetal organs from aborted fetuses obtained from the clinic the previous evening. We were eventually successful in growing fetal organs and tissues that included lung, heart, liver, kidney, and even brain.
A somewhat wealthy acquaintance of mine needed a heart transplant after destroying his body with steroids and human growth hormones — no… actually, at the time, they were equine (horse) growth hormones —for the sake of competing in national bodybuilding contests. Since his other organs were also starting to fail him, he did not qualify to be included on the Organ Transplant Waiting List (now over 115,000 people in the U.S.). Within a year, he "allegedly" received a new heart in Italy after miraculously identifying a young 30 year old male donor who unexpectedly passed away while my friend just so happened to be traveling there on vacation.
The various medical procedures, business models, and biotechnology processes identified throughout the story are all based on either existing technologies and/or proposed business plans that I've been involved with or have reviewed first-hand. The atrocities experienced or caused by the characters in the novel are all either based on true events or very feasible given the dark reality of the evil side of mankind.

All said, please keep in mind that I wrote this "medical thriller" for entertainment purposes. Yes, there's a bit of a "shock and awe" component, but it's meant to give the reader some insight as to what is actually feasible today while providing a glimpse into part of our world that many might deny even exists.
Blog: http://rudymazzocchi.wordpress.com/
Website: www.rudymazzocchi.com
Book Trailer: http://www.youtube.com/watch?v=KAYkQEQBnLk
Click below to read more about Equity of Evil…
ABOUT EQUITY OF EVIL
A Venture Capital Fund makes a risky investment to start a challenging new business that appears capable of reaching profitabililty with modest capital requirements. The real challenge: optimizing one of the most frequently performed surgical procedure in the World — Abortion.
Founding Partner, Roman Citrano, a successful entrepreneur turned venture capitalist, soon struggles with what he believes is his choice to establish the controversial new company. He soon realizes that he and others are but pawns on a massive, ugly chessboard being manipulated to benefit a far larger, illicit market in human organs for transplantation. Unknowingly, prime, hyper-enriched organs are spawned from the aborted fetuses and grown like hydroponic vegetables.
An unfolding world of deceit, rape, human trafficking and assassination becomes deeply personal as Roman's sole love interest secretly uses one of his new abortion services to terminate her untimely pregnancy. When she disappears, his frantic search becomes a hellish nightmare that grows worse by the hour.
Based on true events, this bold novel involves some of the world's oldest, most emotional and controversial issues. At the core of each matter is man's predisposition to control and take ownership of the human spirit for the sake of profit and person gain… such is the dark and brutal new world where life becomes the equity of evil.