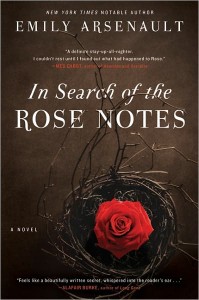 There are a number of things about In Search of the Rose Notes
  that I really liked. For one, I love the way that author Emily Arsenault portrays the friendship between Nora and Charlotte, both as children and later as adults. I love the mystery storyline, the way the children pursue their "investigation," the difficulty that Nora has dealing with it as an adult. I thought the portrayal of Nora was especially good, the way she has grown away from her childhood home and the difficulties she has going back to it and seeing her classmates as adults. And most of all, I enjoyed the skillful way that Arsenault leads you from one suspect to another, the way that she subtly points the finger at different players in this game, so that it is easy to believe any one of them could have murdered Rose.
When Nora and Charlotte were eleven years old, they were best friends. They made plans for their around-the-world trip when they got out of high school. They did their schoolwork together. They played the elaborate games that kids dream up together. And they spent their afternoons with Rose, Charlotte's babysitter, until one day, Rose walked out of their lives and out of the world.
Rose's remains have been discovered, buried in a shallow grave near one of their old childhood haunts. Nora feels compelled to return to her hometown and reconnect with her old friend, Charlotte, and revisit the long-ago days when Nora and Charlotte tried to investigate Rose's disappearance. They might have pulled their methods from crazy science fiction stories, but they were earnest in their desire to find her, to solve a mystery that left a gaping hole in their lives.
I have to admit that I probably suspected everyone in this novel, including Charlotte and Nora, at one time or another. It's an excellent look at the way that time changes our perception of events, the way that we never really know our close friends, and the ways that people grow up and grow apart. Charlotte was a bit of a bully, always pushing Nora around, assuming that Nora would give her her way. Nora was a girl with secrets, including one desperate act that got everyone's attention — something she has never told her husband about. She has trouble seeing her old classmates as anything other than the kids they were, tied up in prom night revelations and childhood grudges. I loved the way these storylines played out.
My copy of In Search of the Rose Notes
 was a review copy, provided free of charge.