Last week, while I was on the road, the Book Fairy visited and brought me some great new stuff!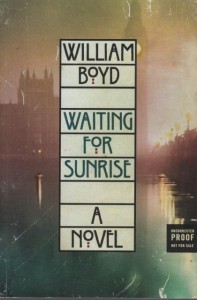 Waiting for Sunrise
 by William Boyd: Vienna, 1913. Lysander Rief, a young English actor in town seeking psychotherapy for a troubling ailment of a sexual nature, becomes caught up in a feverish affair with a beautiful, enigmatic woman. When she goes to the police to press charges of rape, however, he is stunned, and his few months of passion come to an abrupt
But the frenzied getaway sets off a chain of events that steadily dismantles Lysander's life as he knows it. He returns to a London on the cusp of war, hoping to win back his onetime fiancÉe and banish from memory his traumatic ordeals abroad, but Vienna haunts him at every turn. The men who helped coordinate his escape recruit him to carry out the brutal murder of a complete stranger. His lover from Vienna shows up nonchalantly at a party, ready to resume their liaison. Unable to live an ordinary existence, he is plunged into the dangerous theater of wartime intelligence—a world of sex, scandal, and spies, where lines of truth and deception blur with every waking day. Lysander must now discover the key to a secret code that is threatening Britain's safety, and use all his skills to keep this murky world of suspicion and betrayal from invading every corner of his life.end. Only a carefully plotted escape—with the help of two mysterious British diplomats—saves him from trial.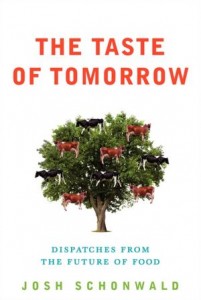 The Taste of Tomorrow: Dispatches from the Future of Food
 by Josh Schonwald: In The Taste of Tomorrow, journalist Josh Schonwald sets out on a journey to investigate the future of food. His quest takes him across the country and into farms and labs around the globe. From Alice Waters' microfarm to a Pentagon facility that has quietly shaped American supermarkets, The Taste of Tomorrow is a rare, behind-the-scenes glimpse at what we eat today—and what we'll be eating tomorrow.
Schonwald introduces us to a motley group of mad scientists, entrepreneurs, renegade farmers, and food engineers who are revolutionizing the food we eat. We meet the Harvard-trained pedia-trician who wants to change the way humans raise fish; a New York chef who believes he's found the next great ethnic cuisine; a lawyer-turned-nanotechnologist who believes he can solve human nutritional needs without using food.erican supermarkets, The Taste of Tomorrow is a rare, behind-the-scenes glimpse at what we eat today—and what we'll be eating tomorrow.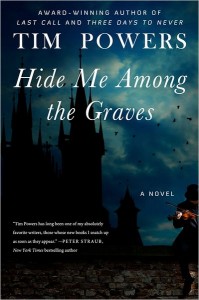 Hide Me Among the Graves
by Tim Powers: London, winter of 1862, Adelaide McKee, a former prostitute, arrives on the doorstep of veterinarian John Crawford, a man she met once seven years earlier. Their brief meeting produced a child who, until now, had been presumed dead. McKee has learned that the girl lives—but that her life and soul are in mortal peril from a vampiric ghost. But this is no ordinary spirit; the bloodthirsty wraith is none other than John Polidori, the onetime physician to the mad, bad, and dangerous Romantic poet Lord Byron. Both McKee and Crawford have mysterious histories with creatures like Polidori, and their child is a prize the malevolent spirit covets dearly.
Polidori is also the late uncle and supernatural muse to the poet Christina Rossetti and her brother, the painter Dante Gabriel Rossetti. When she was just fourteen years old, Christina unwittingly brought Polidori's curse upon her family. But the curse bestowed unexpected blessings as well, inspiring Christina's poetry and Gabriel's paintings. But when Polidori resurrects Dante's dead wife—turning her into a horrifying vampire—and threatens other family members, Christina and Dante agree that they must destroy their monstrous uncle and break the spell, even if it means the end of their creative powers.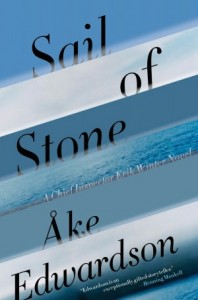 And finally, Sail of Stone
by Åke Edwardson: A brother and sister believe that their father has gone missing. They think he may have traveled in search of his father, who was presumed lost decades ago in World War II. Meanwhile, there are reports that a woman is being abused, but she can't be found and her family won't tell the police where she is. Two missing people and two very different families combine in this dynamic and suspenseful mystery by the Swedish master Åke Edwardson.
Gothenburg's Chief Inspector Erik Winter travels to Scotland in search of the missing man, aided there by an old friend from Scotland Yard. Back in Gothenburg, Afro-Swedish detective Aneta Djanali discovers how badly someone doesn't want her to find the missing woman when she herself is threatened. Sail of Stone is a brilliantly perceptive character study, acutely observed and skillfully written with an unerring sense of pace.