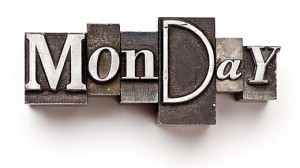 This is going to be another week on the road — this time, the traveling dog and pony show heads for Cincinnati, where we recently bought a facility. That's going to be a long, long week with a lot of work crammed into just a few days, but I hope to keep up to date here.
Monday: I got a bunch of great new books while I was gone last week and I can't wait to share them with you.
Tuesday: I'll have a brand new teaser for you on Tuesday.
Wednesday: Getting caught up, finally, I've got my review of Love Me by Danger_Slater
Thursday: Check back for my review of Raylan by Elmore Leonard
Friday:  Who can say? It's a travel day for me, but maybe something about how publicists and authors can get more out of a guest post.
Saturday: My Saturday Snapshot — something from a favorite spot of mine around town.