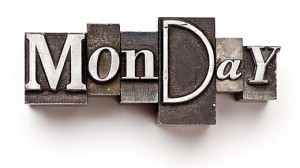 This is another week on the road for me (back in Detroit), but I should have time to get to everything. Takes a little planning, but I usually know when I'll have early nights and what I need to finish up in advance.
Monday: Along with my weekly, preview, I've gotten some new books to share with you.
Tuesday: If it's Tuesday, there must be a Teaser. Not sure what I'll be reading by Tuesday, so we'll have to see what comes up.
Wednesday: Wondrous Words Wednesday – I've got some great words from a book I just finished, The Face Thief by Eli Gottlieb (check back soon for a review).
Thursday: My review of In Search of the Rose Notes — I really enjoyed this one. An interesting mystery.
Friday: I've got a guest post from Rudy Mazzochi, author of Equity of Evil. Be sure to stop back for that.
Saturday: There will almost certainly be a Saturday Snapshot –– I'm just not sure yet what it will be.
Sunday: A girl has to rest and catch up on her reading sometime, doesn't she?