It was a slow week last week — only 2 books came in while I was gone. Hopefully, this will be a case of quality over Quantity.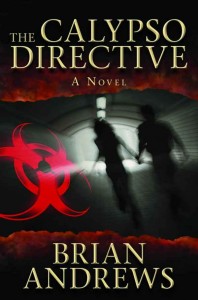 Straight from author Brian Andrews,  I have a copy of The Calypso Directive
. This looks like a great read and I am looking forward to it. Even better, I will have a copy to give away…as soon as I am back home for long enough to run the giveaway. Maybe next week. Here's what you'll get:
"For one hundred and fifty-five days, Will Foster has been locked in medical quarantine without his consent. The doctors claim he is infected with a deadly virus, but this is a lie. Encoded in his DNA is a mutation that provides immunity from disease for all who possess it, source code that Vyrogen Pharmaceuticals aims to commercialize as a multi-billion dollar gene therapy.
Against all odds, Foster escapes his laboratory prison and steals a virulent strain of bubonic plague as insurance. To help him unravel the mystery inside him, Foster contacts the only person he can trust–a former lover and microbiologist living Vienna– and the two become fugitives, hunted across the heart of Europe.
Under the guise of averting a plague pandemic, Vryogen hires an elite, underground Think Tank to track down Foster. But when the team sets a trap for Foster, they discover they're not the only ones in the hunt. In a race against two deadly assassins, can the brilliant minds of the Think Tank unravel the truth before time runs out for their quarry?
In a novel where conscience clashes with greed, loyalty with suspicion, and paranoia with reality, THE CALYPSO DIRECTIVE deftly explores the issues of genetic exploitation and piracy. Captivating, controversial, and courageous, Andrews debut is sure to thrill and leave you wondering what secrets are locked in your DNA."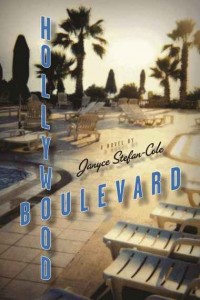 The second treat to show up in my mailbox was
Hollywood Boulevard
 by Janyce Stefan-Cole. This came by way of
Library Thing Early Reviewers
. I've gotten some great books from them lately. LibraryThing.com is a great place to catalog your books and their Early Reviewer Program is a great way to get our hands on some terrific titles. To date, I've gotten over 40 books through LT ER, and they are some of the best reviews on this site!
"Ardennes Thrush is an award-winning movie star who suddenly and mysteriously quit acting at the height of her fame. She is in Hollywood now, at the Hotel Muse, visiting her husband Andre, a world-renowned director struggling through his latest film. Ardennes, a contemplative woman, is also something of a voyeur, and as she watches the comings and goings in the hotel she begins to fear that perhaps she is being stalked. Her period of anonymity ends after a box of dead roses is delivered to her suite. When a Beverly Hills detective comes to investigate, a powerful attraction turns unexpectedly unprofessional and quickly carnal.
When the stalker turns out to be real, Ardennes's private journey escalates into real danger, and we watch rapt as she searches her past for the answer to how she brought herself here."