While I was home last week, I got 3 new books! Some great reading coming up, so be sure you check back for the reviews!
First, The Inquisitor's Key: A Body Farm Novel
 by Jefferson Bass: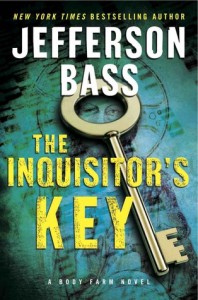 Miranda Lovelady, Dr. Bill Brockton's protÉgÉ, is spending the summer helping excavate a newly discovered chamber beneath the spectacular Palace of the Popes in Avignon, France. There she discovers a stone chest inscribed with a stunning claim: inside lie the bones of none other than Jesus of Nazareth. Faced with a case of unimaginable proportions, Miranda summons Brockton for help proving or refuting the claim. Both scientists are skeptical—after all, fake relics abounded during the Middle Ages—but evidence for authenticity looks strong initially, and soon grows stronger.

Brockton and Miranda link the bones to the haunting image on the Shroud of Turin, revered by millions as the burial cloth of Christ, and then a laboratory test finds the bones to be two thousand years old. The finding triggers a deadly tug-of-war between the anthropologists, the Vatican, and a deadly zealot who hopes to use the bones to bring about the Second Coming—and trigger the end of time.
I also have The Bone Yard
, another Body Farm novel, on the shelf. I think I may have to schedule a Body Farm Weekend coming up!
Next, I got a little something that was pitched to me by email and looks really interesting, Something Red
by Douglas Nicholas:
During the 1200s in northwest England, in one of the coldest winters in living memory, a formidable middle-aged Irishwoman and the troupe she leads are trying to drive their three wagons across the mountains before the heavy snows set in. Molly, her powerful and enigmatic lover, her fey granddaughter, and her young apprentice, soon discover that something terrible prowls the woods. As the group travels from refuge to refuge, it becomes apparent that the mysterious evil force must be faced and defeated—or else they will surely die.

An intoxicating and spirited blend of fantasy, mythology, and history, Something Red features the most fascinating of characters including shapeshifters, Irish battle queens, Norman knights, Templars, pilgrims, Saracens, a Lithuanian noblewoman, warrior monks, strong—even dangerous—women, and ten murderous mastiffs, as well as an epic snowstorm.
Last, I am always excited when a Harper Collins package shows up — it is always something good! This week, it's The Unseen
by Katherine Webb:
England, 1911. When a free-spirited young woman arrives in a sleepy Berkshire village to work as a maid in the household of The Reverend and Mrs Canning, she sets in motion a chain of events which changes all their lives. For Cat has a past – a past her new mistress is willing to overlook, but will never understand …This is not all Hester Canning has to cope with. When her husband invites a young man into their home, he brings with him a dangerous obsession…During the long, oppressive summer, the rectory becomes charged with ambition, love and jealousy – with the most devastating consequences.
How about you — anything new on your bookshelf?