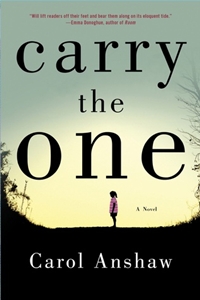 Carry the One
 has a dramatic beginning: it's the evening of Carmen and Matt's wedding and they are surrounded by their family and friends. It's a non-traditional, very Bohemian wedding at a farmhouse owned by Alice, Carmen's sister, and Jean, both artists. In the wee hours of the morning, several party guests — drunk, stoned and sleepy — are making their way home when there is a tragic accident. A young girl is killed on a dark country road. One guest will take the blame, but they will all carry the guilt.
For the rest of their lives, the accident will play in the background — their relationships, their careers, their friendships are all tested and changed. Their lives are already intertwined: Carmen's sister, Alice, and her brother, Nick, were in the car when the accident happened. Nick's girlfriend, Olivia, was driving. Alice's new lover, Maude (sister to Matt, the groom) was in the car, as was Tom, Jean's married lover. (If you're confused, don't feel bad. It took me a while to sort them out in my head.) Even Carmen and Matt, who weren't in the car, carry the guilt of letting them all drive off, knowing they weren't sober enough to be behind the wheel. That little girl becomes a constant presence in their lives. As one character says, "When you add us up, you always have to carry the one."
I think the most tragic story belongs to Nick. He was a wild kid with an equally wild girlfriend, but that all ended the night of the wedding. After that, it was just a slow spiral — although he still has flashes of brilliance and you always believe he can pull himself out. Alice's life is a perfect example of  "be careful what you wish for." Carmen tries so hard, but she just doesn't get it when it comes to relationships. I found myself wanting to sit her down for a stiff drink and some straight girlfriend talk. But that's life, isn't it? Things never seem to turn out the way you planned. It's all ups and downs with long stretches in between and nobody ever really lives happily ever after. I was proud of Olivia; she had the hardest road of all, I think, but the peace she found came at a great price.
I really loved this book. I got caught up in these stories so easily and I was surprised by how invested I felt in their stories. Even when I wanted to smack them in the head or shake some sense into them, I wanted things to turn out well. It's really a sign of great writing, I think, when you feel all wrapped up in the story. At the same time, I found myself afraid to turn the pages, because you just knew that some stories would end in tears — and they did, quite literally, for me.
My copy of Carry the One
 was a review copy, provided free of charge.