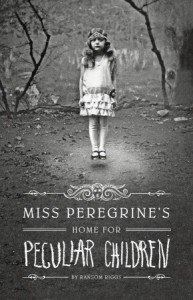 Miss Peregrine's Home for Peculiar Children
 is intriguing as soon as you look at the cover — it took a second or two for me to realize the little girl on the cover (her name is Olive, by the way) is floating. Floating. And such an odd expression on her face! She made me want to open the book and turn the pages.
This is the story of Jacob Portman, an unremarkable young man with a very remarkable grandfather. All through his childhood, Grandpa Portman told wonderful stories of his own boyhood — in particular, of his time on a magical island full of the most unusual children. There was a girl who could fly. There was a young boy who could lift boulders over his head and all sorts of children with peculiar skills and talents. The island itself was like a paradise, always sunny, always beautiful, and the children played and lived happily ever after.
Of course, eventually Jacob began to grow up and he began to recognize his grandfather's stories as fantasies. His father is able to fill in some of the blanks about Grandpa Portman's tragic young life — the loss of his parents, his time in an orphanage — turned into the fantastic stories he shared with Jacob.
But what if those stories were all real?
The story is a little predictable, but the strange and spooky photos give it a marvelous twist. Jacob grows up and learns a lot about himself and his family. Some of the things he learns are not pretty, and he doesn't always do the best job coping with them, but you really root for him to get his act together.
What I loved the most about this book is that the photos are real. From the author's notes:
"The pictures in this book are authentic, vintage found photographs, and with the exception of a few that have undergone minimal postprocessing, they are unaltered. They were lent from the personal archives of ten collectors, people who have spent years and countless hours hunting through giant bins of unsorted snapshots at flea markets and antiques malls and yard sales to find a transcendant few, rescuing images of historical significance and arresting beauty from obscurity…"
Real pictures of floating girls and invisible boys! What is more cool than that? I can understand why these eerie photos inspired a novel — they could inspire several different types of novels, in my opinion. With no history behind them, the stories you could invent for these spooky images are endless.
Miss Peregrine's Home for Peculiar Children
 is a quick read — it's meant for young adults, which isn't my usual genre, but I definitely enjoyed it (even when the story got a little predictable). I picked this copy up for my personal library and I am definitely going to enjoy sharing it with others.