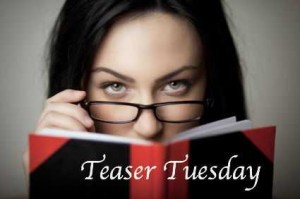 Teaser Tuesdays is a weekly bookish meme, hosted by MizB of Should Be Reading. You know the rules: grab your current read, open to a random page and share a two sentence teaser with us (no spoilers!). Be sure to tell us about the book, so we can add it to our TBR list!
This week, my Teaser is from Miss Peregrine's Home for Peculiar Children
 by Ransom Riggs. Yeah, I know, everyone else read this last year, but my promised review copy never came, so I didn't get started right away. It's a quick little read and perusing the pictures is almost more fun than the story!
"Emma held out a hand and flicker her wrist, but rather than producing a ball of fire, her hand glowed a scintillating blue. The green stars coalesced around it, flashing and whirling, echoing her movements like a school of fish, which, I realized, is just what they were."
A little snorkeling in the shipwrecks! What's teasing YOU this week?