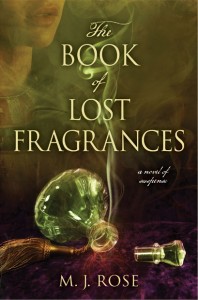 I didn't get a single new book last week! How could that happen? A whole week without a new book. That very rarely happens these days. But I did get something very cool — a little trinket I had all but given up on.
Some time back, a blog offered a special promotion for M.J. Rose's The Book of Lost Fragrances
: pre-order the book from Amazon and receive a very special perfume sample, inspired by the novel. I got my book weeks ago, but there was no sign of the perfume. Last week, my scent shows up and it's lovely. Here's the description from the book:
"He struggled to separate out the notes he recognized from the ones he didn't, searching for the ingredients that gave the blend its promise of hope, of long nights and voluptuous dreams, of invitation and embrace. Of an everlasting covenany ripe with possibility. Of lost souls reunited."
That sounds like quite a scent! It definitely has the long nights and voluptuous dreams down — this is definitely a date-night scent. I am just tickled that the scent finally showed up!