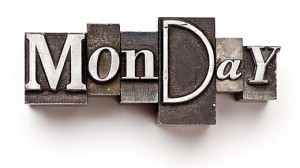 This week, I am home! This is my first full week at home since January, so I plan to enjoy it. I've also got some cool stuff to share.
Monday: Let me tell you about what came in my mailbox!
Tuesday: I think my teaser will by from Miss Peregrine's Home for Peculiar Children
, unless I am hip deep in something else tomorrow.
Wednesday: Wondrous Words Wednesday – I've got some great words lined up for you this week. Maybe a book review, if I get an opportunity.
Thursday: Check back for my review of Carry the One
 by Carol Anshaw. This was a heart-breaker of a book, and I look forward to sharing it with you.
Friday: I have got an interesting guest post from Doxology author Brian Douglas Holers. He's talking about setting in fiction, which is always an interesting topic.
Saturday: As always, there will be snapshots!
Sunday: And on Sunday, she rested. And read. 🙂