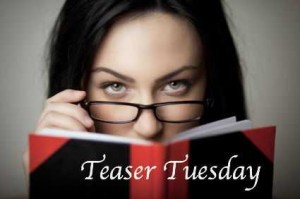 Teaser Tuesdays is a weekly bookish meme, hosted by MizB of Should Be Reading. You know the rules: grab your current read, open to a random page and share a two sentence teaser with us (no spoilers!). Be sure to tell us about the book, so we can add it to our TBR list!
This week, my teaser is from my latest book, No Mark Upon Her
 by Deborah Crombie. Terrific British detective mystery and there were a dozen great teasers I could have chosen, but I decided on this:
"He didn't have all the pieces, but he felt the violence building, the hair on the back of his neck rising in atavistic anticipation. This wasn't over."
Not specific, but it would certainly get my attention! How about you?