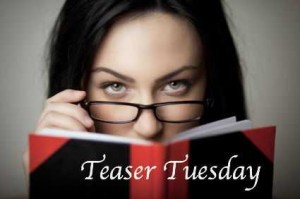 Teaser Tuesdays is a weekly bookish meme, hosted by MizB of Should Be Reading. You know the rules: grab your current read, open to a random page and share a two sentence teaser with us (no spoilers!). Be sure to tell us about the book, so we can add it to our TBR list!
This week, I have a terrific teaser from Angelmaker by Nick Harkaway. Nick's debut novel, The Gone-Away World is one of the best books I've ever read — I can't tell you how many people I've recommended it to — and I couldn't want to get my hands on this one! It's fabulous. I'm about half-way through and I am already sad that it's going to end. The problem I had this week was deciding which teaser to use!
"Between Clighton Street and Blackfriars there is a cul-de-sac which actually isn't a cul-de-sac. At the very end is a narrow gap and a pathway which leads to the railway line, and immediately on the left as you face the tracks there's a doorway into the underworld. Through this little door goes Joseph Spork like the White Rabbit, and down a little spiral staircase into the narrow red-brick tunnels of the Tosher's Beat."
Okay, doesn't that make you want to check it out? I know it makes me curious…but if you read on, it's not as easy as walking through the door!
What's teasing you this week?