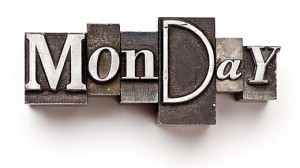 I am coming to you this week from Minneapolis! I love the Twin Cities area — there are some great bookstores here, a new library, and so much culture. The weather should be good this week and I am hoping to hook up with some old friends.
In the meantime, here's what I've got planned for this week:
Monday: I got some great new books last week and I want to tell you about them a little later today.
Tuesday: Teaser Tuesday! I'm not sure what I'll be reading tomorrow, but I'm sure I'll find something to tempt you.
Wednesday: Have you ever come across a word in a novel and had to dig out the dictionary? Wondrous Words Wednesday lets you share that new vocabulary with other readers.
Thursday: Be sure to stop back for my review of Burned by Thomas Enger. Another Scandinavian author, another great murder mystery.
Friday: That's a long way off. I'm waiting for inspiration to strike.
Saturday: There will be snapshots! You know that wherever I am, there will be a Saturday Snapshot.