Today, I've got a guest post from Joanne DeMaio, author of Whole Latte Life
 . She decided to write a little bit about the journey to a creative life and enclosed a photo that inspired her…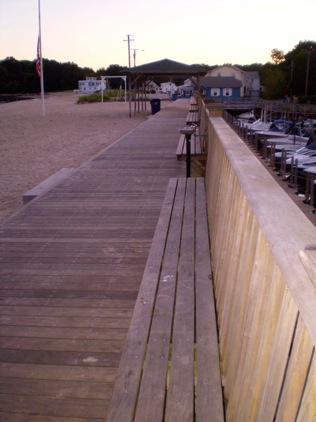 The journey to a creative life isn't always readily available.  As we try to carve out time in our days to write, paint, sketch, it sometimes takes innovative effort to get to that creative place.  To bridge creativity to our families, homes, responsibilities.
This boardwalk bridges worlds.  It bridges the little boat marina behind it to the sandy beach before it.  But there's more.  It bridges the reality of my everyday life to a summer escape.  Sitting there looking out at the sea, responsibilities of home lift away in the sea breeze.  I'm free of chores and bills and cooking and appointments, while I sit on this summer "bridge."  Here, I'm part of the vast sea, the horizon and the sky.
The same happens with our craft.  It must, in some way, bridge to our home life.  Even though they are two different worlds, creative space and family space are both part of our days.
So there is some journey we take to get from one to the other.  As I was writing my novel Whole Latte Life, one of the bridges I found was walking.  Taking a walk helped to clear the way for the muse before I sat down at the keyboard.  It was the perfect bridge between family and writing.
There are so many bridges you can cross to get to our creativity.  You just have to find one that works for you.  Check in with your blog pals, maybe?  Do you observe nature before putting your paintbrush on the canvas?  Craft a to-do list?
Creating becomes easier if you first find your bridge from home life to creative life.  What's your boardwalk, so to speak?
~Joanne
For more on Joanne and Whole Latte Life, check out her website.