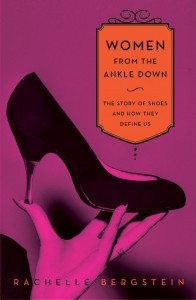 One thing I was reminded of while reading this book: I really need a new pair of classic black pumps.
First of all, Women from the Ankle Down: The Story of Shoes and How They Define Us
 by Rachelle Bergstein is really a book about women's shoes. There are mentions of men's shoes, but not many — let's face it, men's shoes are boring. Most of this book is about women's shoes and how they evolved and what influenced them.
There is a lot of interesting information in this book about modern shoes. If you're looking for ancient shoes, for the history of foot-binding, look somewhere else. This little book starts with "Ferragamo and the Wartime Wedge (1900-1938)" and runs through Sex and the City ("Shoes and the Single Girl (1998-2008)"). Lots of detail about how certain styles evolved and how shoes go in and out of style, along with some interesting bits of shoe lore.
I love shoes! Sadly, my work requires mostly sensible shoes now, but that doesn't mean I don't drool over the latest styles (although I cannot wait for the hooker-platform fad to pass — can't happen soon enough). I enjoyed getting a bit of insight into what was fashionable and what was controversial in different generations (who would have thought of ballet flats as rebellious?). I also didn't know that shoes were actually rationed during the war:
"As it was, the ration stipulated not only how many shoes consumers could buy but also what kind of shoes the footwear industry was permitted to produce going forward…For women, the shoe ration instantly outlawed flourishes which had become the quintessence of a varied shoe collection."
The American government even limited the colors that could be used in shoe production to 4 — black, white, town brown and army russet. Heel heights were regulated and so were the height of boots.
Bergstein covers the rise of Birkenstocks, the influence of the movies on shoes (and vice versa) and Girl Power, Saturday Night Fever and the battle between Manolo Blahnik and Jimmy Choo. What she doesn't do is provide a single photograph! Unless photos were added in the finished version (mine was an uncorrected proof), I think it's a huge gap. I mean, you can describe the shoes in The Who's rock opera, Tommy:
"To cement the Local Lad's top dog status, [Elton] John wore the entertainment industry's most vertiginous pair of shoes; inspired by the cherry red 1460 Doc Martens popular with London youth at the time, these boots were specially fastened out of fiberglass by Scott Bader, the Northamptonshire chemical firm, and measured a towering four feet, six and a half inches high."
But doesn't this help get the idea across: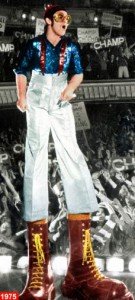 It certainly helps the reader to imagine the shoes! A big missing piece of the puzzle in the book, which can't really be overcome by the line drawings at the start of each chapter. Also, you can get away with using "vertiginous" once, if you use it correctly (it doesn't just mean tall), but six times? Now you're just showing off, and not in a good way.
All in all, an interesting and enjoyable book, if not too deep into history. My copy of Women from the Ankle Down: The Story of Shoes and How They Define Us
 was an Advanced Reader Copy, provided free of charge.