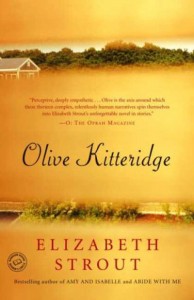 One of the best reasons for joining a book club is that it encourages you to read books you wouldn't have picked up otherwise. Several years ago, I read The Known World
 by Edward P. Jones for a book club and counted it as a gem that I would probably have never read otherwise, and I would put Olive Kitteridge
 by Elizabeth Strout in the same category.
The book is a collection of stories — 13 chapters about different characters and events that are all tied in some way to Olive, our main character. She's a big woman, gruff, much-loved by her husband, Henry, and alternately loved and feared by her students in their little town of Crosby, Maine. The stories vary in how closely tied they are to Olive, but she's a fascinating character throughout. (In fact, the chapter I liked the least, "Criminal", is the one that is most loosely associated with her.) The stories are told by different characters, from different points of view, and they all remind me so strongly of the relationships and generations-old hurts and grudges in the small town where I grew up that it was almost frightening.
This seems to be a book that inspires strong feelings. Most folks in the group I belong to rated it fairly high on our scale of 1-5; although some didn't really enjoy the book, they found it well-written and interesting. A few gave it a lower rating because it was sad, which doesn't make much sense to me. There were also some strong differences between the way younger readers (mid-20s to mid-30s) saw the book as compared to older readers (45+). Younger readers in particular saw it as a cautionary tale — How do I keep from ending up old and bitter like Olive? — whereas older readers could sympathize with Olive and her predicament. She pushed people away, measured her success by others' failures, and never showed any vulnerability. You had to respect her toughness even as you could see how much it hurt her.
In truth, this is not a happy book. There is that sort of quiet desperation about the book that can be so heartbreaking — lives lived without any great expectation that they should be happy, or at least without much surprise when they aren't. The few things that Olive does wish for — that her son will live in the beautiful home that Olive and Henry built for him — are often taken away from her. But there are flashes of humor. I loved Olive for her behavior at her son's wedding (I've a bit of a mean streak myself) and I thought she and Henry were very cute together. It is lovely and well-written, but mostly a pretty somber read. I enjoyed it very much, all the same.
My copy of Olive Kitteridge
 (on audiobook) was provided by the Kent Free Library.