I've got some new books to share with you this week and I am really excited about these titles!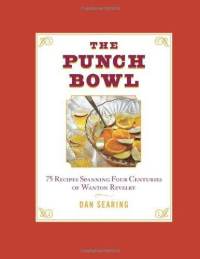 The first, I received as a birthday gift. I don't often get books as gifts; most of my family figures that if they think I might like it, I probably already have it (and they're usually right). This is a little different – my cousin is acquainted with the author and she thought I would enjoy it. It's called The Punch Bowl: 75 Recipes Spanning Four Centuries of Wanton Revelry
 by Dan Searing and it's a book of punch recipes. I am planning on picking one for our family Thanksgiving dinner or for the next party I throw. (You know it's going to be a good party when they're serving Spread Eagle Punch, page 70.)
Next, a book that sounds vaguely familiar. I don't know if I requested this or not, but it certainly sounds interesting: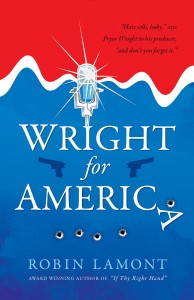 Wright for America
 by Robin Lamont: Pryor Wright's ultra-conservative radio show has millions of devout fans who are sure that the slurs and wild accusations fired at the liberal left prove him a true patriot. But when his venomous rantings catch Maren Garrity's twin brother in the crossfire, the struggling actress pursues her own style of justice and enlists a troupe of fellow unemployed actors to teach Wright just how powerful words can be.
And finally, two ebooks that I requested. I am hoping to get to these quickly, but with the teetering piles of books in my living room, they might be in for a bit of a wait: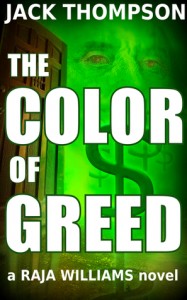 The Color of Greed
 by Jack Thompson: When the young husband of a wealthy heiress is found dead on his yacht floating off the California coastline, his death is ruled an accident and the case is closed. The grieving widow, certain her husband was murdered but getting no help from the police, turns to Raja Williams, a wealthy Oxford-educated private investigator, who has dedicated his resources to help those in need of justice. When Raja arrives in Los Angeles and more bodies begin to pile up, he suspects a coverup that may go as high up as the governor. With the help of his partner Vinny, a highly skilled hacker, Raja must unravel the case before everyone involved, including the two of them, winds up dead.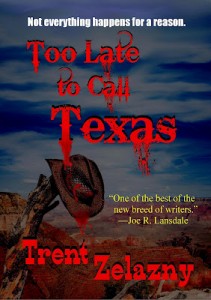 TOO LATE TO CALL TEXAS
 by Trent Zelazny: If only he hadn't found the hat. Or the dead guy. Or the steamer trunk. Or the rag doll. If only he hadn't found any of these things, everything might have been okay. But he had found them. All of them. Now Carson Halliday is on the run, trying his damnedest to keep one step ahead of a dangerous gang of outlaws and mad men. A run leading him from town to town in the dry wasteland of the southern New Mexico desert, over dark hills and dangerous plains, through shantytowns and city streets, and, most frightening of all, into the mysterious depths of the human heart.