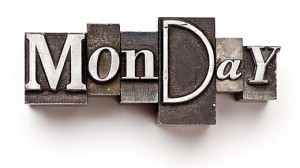 Gonna be a busy week! I've got some interesting things to share this week. Here's a snapshot of what's coming up:
Monday: I've got a bunch of new books that came in this week. This afternoon, I'll tell you all about them.
Tuesday: Another teaser from my current book. Not sure what the book will be on Tuesday, but I'll find something interesting.
Wednesday: Check back for my review of Kate White's I Shouldn't Be Telling You This: Success Secrets Every Gutsy Girl Should Know
Thursday: My second review of the week! The Code
 by sportswriter G.B. Joyce
Friday: News, guest posts, who knows what might show up on a Friday?
Saturday: As always, Saturday Snapshot. I've got some great pics from my trip to Seattle.
Sunday: Another Quotable — interesting people, talking about books and reading.