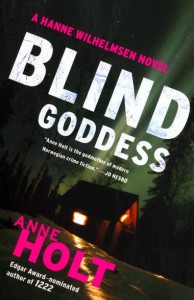 Yesterday, I reviewed 1222 by Anne Holt, the first book in the Hanne Wilhelmsen series. Blind Goddess
 jumps back in time, back before the shooting the left Hanne in a wheelchair. This gives us more background on Hanne and what she was like as a detective, before she became the bitter woman we met in the first book.
There's an interesting mystery at the heart of this, though I admit I got a little mired down in the middle. A drug dealer is found battered to death in a part. A deranged man, covered in blood, is found wandering in the middle of downtown Oslo. He insists on having Karen Borg as his court-appointed attorney — the same woman who discovered the battered body of the man he apparently killed. And then things get really strange.
There is clearly a conspiracy here. Borg is not a criminal lawyer, but the suspect still insists on having her help. The case attracts the attention of a variety of characters, including other attorneys who seem very insistent on being allowed to represent the accused killer. Throw in the rumors that the narcotics squad has been investigating about a drug ring run by lawyers, and you've got a lot of potential.
I did not enjoy Blind Goddess as much as I did 1222. The story seems a little more forced, even though there are a lot of good aspects to the puzzle the detectives are working on. The romance angle was unnecessary and seemed out of character to me. Still, it is interesting to get a look at Hanne's past. I am curious about how the rest of the series will work — where in the timeline new stories will fall. I am definitely going to give the next one a chance.
My copy of Blind Goddess
 came from my personal library.