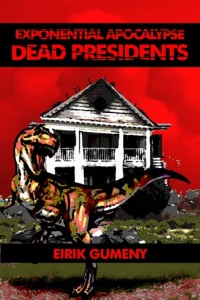 Okay, this one is just weird. Bizarre, a little gory, pretty funny. You'd sort of like to have a drink with the sort of guy who comes up with an idea like this, but you're a little afraid the drink might be grain alcohol, or maybe absinthe.
in Eirik Gumeny's Exponential Apocalypse: Dead Presidents
, Thor, the former Norse God of Thinder, has returned to his day job at the Secaucus Holiday Inn. He's hanging out there with his friends, Queen Victoria XXX and Chester A. Arthur XVII.
"After the world ended for the sixteenth time, the Aussichtslos Drogensucht Gesellschaft mit beschrankter Haftung, a frozen sausage company out of Germany, manufactured an absolutely absurd number of genetic reproductions of political leaders from across the globe, hoping to land a profitable contract with the United States government, either as a steady source of on-demand experienced political minds or as a supplier of a new kind of lunch meat. They weren't picky."
That's the sort of thing you get in this book — multiple world-destroying apocalypses, crazed dictators and random lunch meat references. There's Timmy, the telekinetic, telepathic, super-squirrel. There's Dr. Kong, a sentient silverback gorilla and holder of two medical degrees. But there are even more frightening monsters out there. There is the Amish Butter Monster — and no, that's not just a story vegan parents tell their children to scare them into a life of tofu.
"The butter monster towered into view before them, an unnatural shade of off-yellow, oozing and bubbling toward them in fits and starts, swallowing everything in its path and toppling everything to the sides of its path. The creature lifted what could best be described as its head to roar, a mouth slowly tearing open, like an old woman with no teeth eating peanut butter. The squelching sound of churning butter echoed through the forest."
Yeah, that's pretty much what the book is like. If you like that sort of story, you're going to have some fun with this. I have to say that it's not really my thing. It was entertaining enough, sitting in the airport lounge, waiting for my flight, but I'm looking forward to passing this one on to someone who will really enjoy it.
My copy of Exponential Apocalypse: Dead Presidents
 is a review copy, provided free of charge.