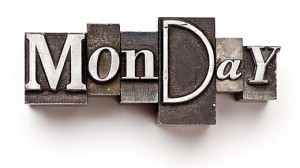 Gonna be a busy week! I've got some interesting things to share this week. Here's a snapshot of what's coming up:
Monday: More new books! Plus an announcement of my winner in the To Kill a Mockingbird giveaway.
Tuesday: Another teaser from my current book. Not sure what the book will be on Tuesday, but I'll find something interesting.
Wednesday: Last chance to enter my Steampunk Romance Giveaway!
Thursday: I've got a couple of reviews in the works for Thursday and Friday of this week.
Friday: News, guest posts, who knows what might show up on a Friday?
Saturday: As always, Saturday Snapshot. If I can get my phone working, I've got some great fall shots from along my favorite walking trails.
Sunday: Another Quotable — interesting people, talking about books and reading.