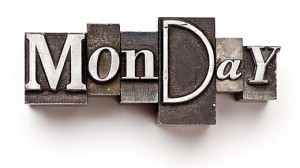 The next couple of weeks, I'm gonna be really busy. I've got a special project this month, and I'll tell you more about it this afternoon.
Monday: Today, I'm gonna tell you about my special November project (I wonder if you can guess what it is!) and the new books I got this week.
Tuesday: Another teaser from my current book. Not sure what the book will be on Tuesday, but I'll find something interesting.
Wednesday: I've got a couple of reviews to get caught up on and I am hoping to have one for you today.
Thursday: Check in for my review of Buried on Avenue B
 by Peter de Jonge
Friday: News, guest posts, who knows what might show up on a Friday?
Saturday: As always, Saturday Snapshot. I think I'm going to dig out some cool restaurant photos for this week.
Sunday: Another Quotable — interesting people, talking about books and reading.