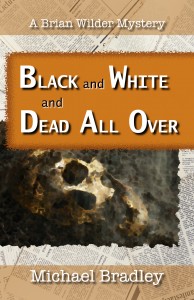 Today, I've got some bonus goodies for you — the first chapter of Michael Bradley's new book, Black and White and Dead All Over
. The excerpt was provided by the good folks at Sage's Blog Tours. Here's a bit about the book to get you clicking…
When the skeleton of a teenage girl is uncovered at a construction site in Newark, journalist Brian Wilder must follow a twenty-two year old trail of deceit and lies to uncover the truth behind her death.

While still struggling with his own tragic past, Brian uncovers a haunting secret of passion and anger that could threaten to destroy one of the most powerful political families in Delaware.
Makes me wish I had time for another book on the review list, but I bet some of you will be putting it on your wishlist. Click the link below to read the first chapter, and then click on the title above to get a copy of your own. Even better, click on the comment link and let us know what you think of it!
Black & White & Dead All Over – Chapter 1