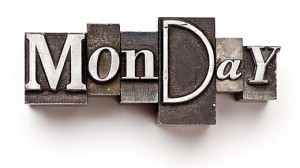 Busy, busy week, coming up to Christmas!
Monday: Monday I will be playing catch-up at work and getting my Christmas tree up, so no posts today.
Tuesday: I have a special post today – a 1-chapter sneak peek from Michael Bradley's new book, Black and White and Dead All Over. Be sure to check back and read the
Wednesday: I am hoping to have some reviews for you this week. I want to start off on Wednesday with The Tiny Book of Tiny Stories, Volume 2.
Thursday: I just finished John Scalzi's Redshirts and it's the funniest thing I've read in ages. The review should come up on Thursday.
Friday: I am planning a special Christmas review today! Be sure to check back.
Saturday: On Saturday, there are always snapshots.
Sunday: A new Quotable — words about reading and writing, books and the people who love them.