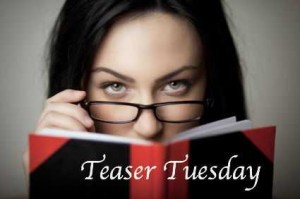 Teaser Tuesdays is a weekly bookish meme, hosted by MizB of Should Be Reading. You know the rules: grab your current read, open to a random page and share a two sentence teaser with us (no spoilers!). Be sure to tell us about the book, so we can add it to our TBR list!
Okay, it's still Tuesday in my time zone for at least another 20 minutes, so I'm still legit. It's been kind of a crazy day, lots of work stuff going on, but I still wanted to share a tidbit from my current book, Redshirts
, by John Scalzi. This thing is hilarious — it's been a while since I read something I enjoyed this much:
"The last person who explained this idea to me got chopped up into little pieces even after someone died," Dahl said. "I don't think it works the way you think it does."
Reminds me a little of The Princess Bride for just a minute there, if they were on a ship in outer space. Loving this — can't wait to review it for you!