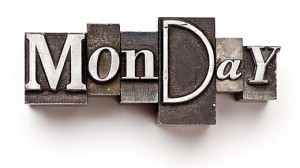 I am in Cincinnati this week for work, and here's what I've got planned…
Monday: If I get a chance, I've got at least one new book I want to tell you about.
Tuesday: Teaser Tuesday will include something from my current read. I just finished one book and I haven't decided what to start next, so it's still a big mystery.
Wednesday: I've got more fanciful medieval words from Something Red to share.
Thursday: I will definitely have a review — perhaps the book I just finished, perhaps the audiobook I finished on the drive to Cincinnati. Who can say?
Friday: I've got a special guest post today from Douglas A. Jaffe, author of Chasing Dragons.
Saturday: Saturday Snapshot — I think I need to take some pictures in Cincinnati this week.
Sunday: Another Quotable — interesting, funny, thought-provoking statements about books and reading.