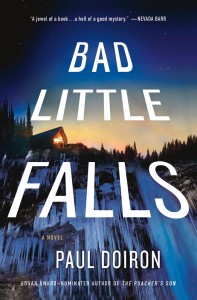 I've been doing a lot of driving lately, which is always a good time to catch up on my audiobooks. I've got a stack of great audiobooks that the good folks at Macmillan Audio sent me, and I've been putting them to good use.
I finished this novel sitting at home, warm and cozy with a cup of coffee — a great way to listen to a book about a blizzard. Bad Little Falls
by Paul Doiron is the story of Maine game warden Mike Bowditch. He's been sent into exile, Down East, a remote outpost on the Canadian border. He's lonely, frustrated, and not making friends. Game wardens aren't popular with the hunters in the area, making it a very tough assignment.
Having dinner with the local veterinarian (what passes for his social life, these days), Bowditch is called to the cabin of a local couple. In a raging blizzard, a half-frozen man has appeared at their door, raving about another person, lost in the swirling snow. After a long, cold search they find the body — but it's not the storm that did him in.
All in all, this is a good mystery. There are some holes and there are more than a few loose ends at the end. I like that about the story; nothing seems more fake than a tidy confession that wraps everything up in a bow. I found plenty of local color and enough talk of snow and ice to send me to the kitchen for a hot toddy. The mystery unfolds in fits and starts, as you'd expect. There's danger, a little bad romance, and bad things happen to some dogs — and people.
My favorite character is Lucas, an odd little 12-year-old boy with coke-bottle glasses and the sort of bent outlook on life you'd expect, growing up in a family twisted by addiction and tragedy. His notebooks provide insight into the story and Bowditch's affection for the boy puts them both in terrible danger.
The audio portion is excellent. The accents are wicked good and it's easy enough to tell the characters apart. No distracting music and sound effects, just a good story, a competent reader (Henry Leyva) with voices and accents that fit the characters.
The problem with the book, for me, is Bowditch. What an idiot! He is constantly making the wrong choice, jumping to the wrong conclusion, and driving headfirst into brick walls. To begin with, I don't have a lot of respect for guys who can't keep it in their pants, and Bowditch knows he's making a bad decision! Every step of the way, he tells himself it's a bad idea and he does it anyway. The fact that things turn out okay in the end makes no difference. If he's this thick in every book, I wouldn't keep reading. Of course, that means I'll need to check out a few more, just to be sure. The series includes The Poacher's Son
and Trespasser
My audiobook copy of Bad Little Falls
was a review copy, provided free of charge.